My Blog
Posts for tag: wisdom teeth
By Sean M. Flynn, DMD, LLC
June 27, 2019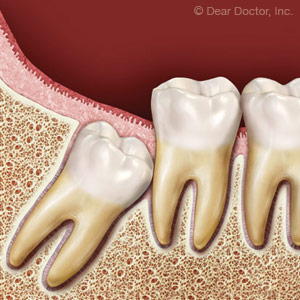 As Spring turns to Summer, millions of students will depart high school in the time-honored rite of passage called graduation. At the same time, quite a few of these graduates will be experiencing another maturity milestone: the eruption (coming in) of their last permanent teeth.
Typically, these are the back third molars, better known as "wisdom teeth," emerging on either end of both the top and bottom jaws sometime between the ages of 18 and 24. Their arrival heralds the end of a long development process that began in infancy.
But this auspicious event can give rise to dental problems. Because they're the last to come in, wisdom teeth often erupt in an environment crowded by earlier teeth. Depending on jaw size and other factors, there may not be enough room for a normal eruption.
Wisdom teeth can thus erupt out of position, creating a poor bite (malocclusion). Or they might not erupt at all—becoming stuck fully or partially within the gums and bone, a condition known as impaction. Impacted teeth can also cause problems for the adjacent teeth, damaging the roots of the second molars or disrupting the surrounding gum tissue, making them more susceptible to periodontal (gum) disease.
Because of these and other issues, impacted wisdom teeth are among the most common type of teeth removed: an estimated 10 million each year. And many of these are removed before they show signs of disease or complications as a preemptive strike against developing dental problems.
Although unnecessary surgery should always be avoided, according to some research, there's a one in three chance that erupting wisdom teeth that are not showing signs of trouble will eventually become problematic. And the earlier they're removed, the lower the risk of post-extraction complications.
Wisdom teeth should always be evaluated on a case by case basis. Those with obvious signs of disease or complications do require prompt treatment, including possible extraction. Others that are asymptomatic can be monitored over time: If they're tending to become problematic, we can adjust the treatment plan accordingly. Our goal is to ensure these particular teeth signaling the end of childhood won't detract from dental health in adulthood, so a measured approach seems to be the best and safest one.
If you would like more information on treatment options for wisdom teeth, please contact us or schedule an appointment for a consultation. To learn more, read the Dear Doctor magazine articles "Wisdom Teeth: Coming of Age May Come With a Dilemma" and "Wisdom Teeth: To Be or Not to Be?"
By Sean M. Flynn, DMD, LLC
December 09, 2018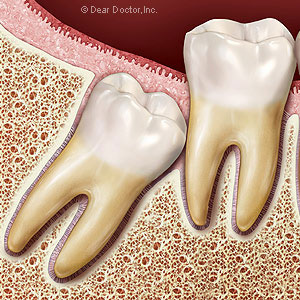 As permanent teeth gradually replace primary ("baby") teeth, most will come in by early adolescence. But the back third molars—the wisdom teeth—are often the last to the party, usually erupting between ages 18 and 24, and the source of possible problems.
This is because the wisdom teeth often erupt on an already crowded jaw populated by other teeth. As a result, they can be impacted, meaning they may erupt partially or not at all and remain largely below the gum surface.
An impacted tooth can impinge on its neighboring teeth and damage their roots or disrupt their protective gum attachment, all of which makes them more susceptible to tooth decay or periodontal (gum) disease. Impacted teeth can also foster the formation of infected cysts that create areas of bone loss or painful infections in the gums of other teeth.
Even when symptoms like these aren't present, many dentists recommend removing the wisdom teeth as a preemptive measure against future problems or disease. This often requires a surgical extraction: in fact, wisdom teeth removal is the most common oral surgical procedure.
But now there's a growing consensus among dentists that removing or not removing wisdom teeth should depend on an individual's unique circumstances. Patients who are having adverse oral health effects from impacted wisdom teeth should consider removing them, especially if they've already encountered dental disease. But the extraction decision isn't as easy for patients with no current signs of either impaction or disease. That doesn't mean their situation won't change in the future.
One way to manage all these potentialities is a strategy called active surveillance. With this approach, patient and dentist keep a close eye on wisdom teeth development and possible signs of impaction or disease. Most dentists recommend carefully examining the wisdom teeth (including diagnostic x-rays and other imaging) every 24 months.
Following this strategy doesn't mean the patient won't eventually have their wisdom teeth removed, but not until there are clearer signs of trouble. But whatever the outcome might be, dealing properly with wisdom teeth is a high priority for preventing future oral health problems.
If you would like more information on wisdom teeth and their potential impact on dental health, please contact us or schedule an appointment for a consultation. You can also learn more about this topic by reading the Dear Doctor magazine article "Wisdom Teeth: Coming of Age May Come with a Dilemma."
By Sean M. Flynn, DMD, LLC
August 09, 2016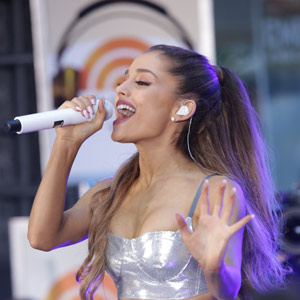 Via a recent Instagram post, pop diva Ariana Grande became the latest young celebrity to publicly acknowledge a dental milestone: having her wisdom teeth removed. The singer of hits such as "Break Free" and "Problem" posted an after-surgery picture of herself (wearing her signature cat-eye eyeliner), with a caption addressed to her teeth: "Peace out, final three wisdom teeth. It's been real."
With the post, Grande joined several other celebs (including Lily Allen, Paris Hilton and Emile Hirsch) who have shared their dental surgery experience with fans. Will "wisdom teeth removal" become a new trending topic on social media? We aren't sure — but we can explain a bit about the procedure, and why many younger adults may need it.
Technically called the "third molars," wisdom teeth usually begin to emerge from the gums between the ages of 17 and 25 — presumably, around the same time that a certain amount of wisdom emerges. Most people have four of these big molars, which are located all the way in the back of the mouth, on the left and right sides of the upper and lower jaws.
But when wisdom teeth begin to appear, there's often a problem: Many people don't have enough space in their jaws to accommodate them. When these molars lack sufficient space to fully erupt (emerge), they are said to be "impacted." Impacted teeth can cause a number of serious problems: These may include pain, an increased potential for bacterial infections, periodontal disease, and even the formation of cysts (pockets of infection below the gum line), which can eventually lead to tooth and bone loss.
In most cases, the best treatment for impacted wisdom teeth is extraction (removal) of the problem teeth. Wisdom tooth extraction is a routine, in-office procedure that is usually performed under local anesthesia or "conscious sedation," a type of anesthesia where the patient remains conscious (able to breathe normally and respond to stimuli), but is free from any pain or distress. Anti-anxiety medications may also be given, especially for those who are apprehensive about dental procedures.
So if you find you need your wisdom teeth extracted, don't be afraid to "Break Free" like Ariana Grande did; whether you post the results on social media is entirely up to you. If you would like more information about wisdom tooth extraction, please call our office to schedule a consultation. You can learn more in the Dear Doctor magazine articles "Wisdom Teeth" and "Removing Wisdom Teeth."