My Blog
Posts for: October, 2017
By Sean M. Flynn, DMD, LLC
October 28, 2017
The CAT scan is a relatively recent technique in dentistry, used to get an image of what's happening deep within your jaws. You may be wondering what a CAT scan tells us that a conventional x-ray picture does not, and whether it is worth the extra expense to get one. And how does a CAT scan compare with a conventional x-ray in terms of radiation exposure?
CAT stands for "computer assisted tomography." Often it's just called a CT scan, for "computerized tomography." The word "tomography" comes from roots meaning "slice" and "write." Tomographic techniques take repeated two dimensional pictures, similar to repeatedly slicing through an object, and then assembles them with a computer to produce a three dimensional (3-D) image.
The latest type of CT scan used in dentistry is called CBCT, or Cone Beam Computed Tomography. The Cone Beam refers to a spiral beam of x-rays, which is used to create a series of two dimensional images from which a computer creates a 3-D image. Such an image is of great value in assessing problems and planning treatment.
Here are just a few examples of how a CBCT scan can be used. Orthodontists can see skeletal structures and developing teeth that are still inside the jawbone while planning strategies for directing the teeth in order to arrive at a better bite. Oral surgeons can find impacted or missing teeth, see their locations, and view their proximity to nerves and sinuses, assisting them in planning surgeries. These scans are particularly useful for root canal specialists because they show root canals that are less than a millimeter wide and even reveal accessory canals that may not be visible on conventional x-rays. In cases of sleep disorders such as sleep apnea, a CBCT during sleep can be used to view a person's airway and how it may be blocked by the tongue and other soft tissues in a person's throat during sleep.
Compared to background radiation, the amount of radiation delivered in dental x-rays is minimal. A CBCT delivers a dose of radiation that is less than a typical full mouth x-ray series but more than a typical two dimensional panoramic radiograph. Generally CBCT scanners deliver lower doses than medical CT scanners.
With one low-dose CBCT scan, we can get an accurate idea of the internal structure of your bones and teeth and how they are situated in relation to each other. Prior to the availability of such images, many of these relationships had to be discovered in the course of a surgery or other treatment. Thus such a scan can aid greatly in the quality of treatment you will receive.
Contact us today to schedule an appointment or to discuss your questions about 3-D scans in dentistry. You can also learn more by reading the Dear Doctor article, "CAT Scans in Dentistry."
By Sean M. Flynn, DMD, LLC
October 13, 2017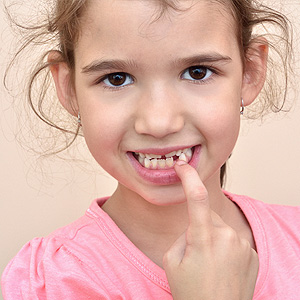 Watching your newborn develop into a toddler, then an elementary schooler, a teenager, and finally an adult is one of the most exciting and rewarding experiences there is. Throughout the years, you'll note the passing of many physical milestones — including changes that involve the coming and going of primary and permanent teeth. Here are some answers to frequently asked questions about children's dental development.
When will I see my baby's first tooth come in?
The two lower front teeth usually erupt (emerge from the gums) together, between the ages of 6 and 10 months. But your baby's teeth may come earlier or later. Some babies are even born with teeth! You will know the first tooth is about to come in if you see signs of teething, such as irritability and a lot of drooling. The last of the 20 baby teeth to come in are the 2-year molars, so named for the age at which they erupt.
When do kids start to lose their baby teeth?
Baby teeth are generally lost in the same order in which they appeared, starting with the lower front teeth around age 6. Children will continue to lose their primary teeth until around age 12.
What makes baby teeth fall out?
Pressure from the emerging permanent tooth below the gum will cause the roots of the baby tooth to break down or "resorb" little by little. As more of the root structure disappears, the primary tooth loses its anchorage in the jawbone and falls out.
When will I know if my child needs braces?
Bite problems (malocclusions) usually become apparent when a child has a mixture of primary and permanent teeth, around age 6-8. Certain malocclusions are easier to treat while a child's jaw is still growing, before puberty is reached. Using appliances designed for this purpose, orthodontists can actually influence the growth and development of a child's jaw — to make more room for crowded teeth, for example. We can discuss interceptive orthodontics more fully with you at your child's next appointment.
When do wisdom teeth come in and why do they cause problems?
Wisdom teeth (also called third molars) usually come in between the ages of 17 and 25. By that time, there may not be enough room in the jaw to accommodate them — or they may be positioned to come in at an angle instead of vertically. Either of these situations can cause them to push against the roots of a neighboring tooth and become trapped beneath the gum, which is known as impaction. An impacted wisdom tooth may lead to an infection or damage to adjacent healthy teeth. That it is why it is important for developing wisdom teeth to be monitored regularly at the dental office.
If you have additional questions about your child's dental development, please contact us or schedule a consultation. You can also learn more by reading the Dear Doctor magazine articles "Losing a Baby Tooth" and "The Importance of Baby Teeth."